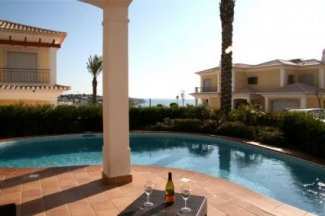 Our luxuriously furnished four bedroom villa was built in 2007 with state of the art facilities including surround sound to all the bedrooms.

There are sea and beach views from the sun terrace and the villa is fully equipped to cater for all of your holiday needs with even a Nintendo Wii and games and wireless broadband.

There is a large heated pool in the walled garden for your privacy with lovely landscaped gardens as well as a large patio area with a barbeque.

The beach is only a 5 minute walk from the villa and known as one of the best beaches in the Algarve.